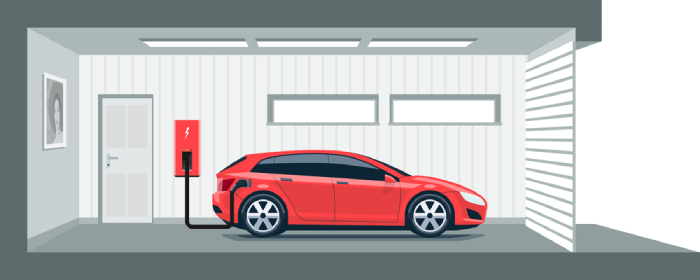 Shopping for a new car? Now's the time to switch to an electric vehicle.
More and more Canadians are scrapping their gas-guzzling cars for electric ones. EVs reduce greenhouse gas emissions, and allow you to save money on rising gas prices. Even better, there are excellent rebates available for EV purchases in Canada.
Once you've chosen the electric vehicle that you want, the next step is installing your home EV charging station. You can plug your electric car into your home charging station whenever you need to fill the battery. Not only is it more convenient, but you'll be saving money with each recharge.
Here's the great thing about installing an EV charger: you only pay for it once. With a gas-powered vehicle, you pay for gas each time you need to stop and fill up on fuel. Electricity is a lot less expensive than gas (and it's better for the environment, too).
So, how much will your home EV charger cost you? When you're calculating the cost of your EV charging station, you need to consider:
The level of charger (1, 2, or 3)
The current electrical capacity of your home
The type of charger (for your specific EV model)
The labour involved in the installation
We're going to break down the cost of installing electric vehicle supply equipment in your home:
Levels of EV Chargers
First, you need to decide which level of EV charger you want. Your charger options include:
Level 1: These come standard with most electric cars. Since these chargers can be used with any 110 volt outlet, you won't need to call an electrician to upgrade your electrical systems. But with a Level 1 charger, it can take 1-2 days to completely charge your vehicle. Even if you leave your car plugged in overnight, you might not have enough battery to get through your day.
Level 2: Looking for a faster charging solution for your home? Then a Level 2 EV charging station is what you need. They can completely charge your car within 2-5 hours. All Level 2 chargers require a 240 volt outlet.
Level 3: Level 3 charging stations aren't often used for residential purposes; they're more suitable for commercial use, like at a public charging station or large housing complex (an apartment or condo building).
So, which level of EV charger is best to install in your home? We recommend Level 2. It provides fast charging times for busy homeowners. If you don't have all day to wait for your car to charge, a Level 2 charging station will be ideal for your home. You can use a Level 2 charger to power your car in just a few hours.
While Level 3 chargers are faster, they often require a second electric panel to support the 480 volt plug. Most homeowners can refuel in good time with a Level 2 charging station.
Types of EV Chargers
When you're choosing an electric vehicle charging station, there are two main types: ones that plug into a wall outlet, and ones that are hardwired into an electrical circuit. We're going to explain the differences between them:
A Level 2 plug-in charger connects to a 240 volt electrical outlet. Since they can be plugged into the wall, they're easy to install and remove. An electrician can upgrade an existing 110 volt outlet to a 240 volt. If you're looking for a portable unit that can plug into an outlet, consider a plug-in charger.
On the other hand, a hardwired charger hooks up directly to an electrical circuit. It's wired directly to your home, so it's not removable or portable. These EV chargers are best for outdoor use.
If you're interested in a Level 2 charger, you can choose a plug-in (portable) or hardwired charger. We'll help you install the right EV charger for your home; if you require a service upgrade for your breaker box, we can take care of that, too.
Other Factors that Affect Installation Costs
The total cost of home electric vehicle chargers can vary based on a few factors. One is the location of your charger. Do you want it installed inside an attached garage, or outdoors? Typically, you can save money by installing the outlet directly in your garage (especially if you already have a 240 volt outlet there).
If you live in an older home, it may not have the electrical capacity to supply the amperage your EV charger needs. Upgrading your electrical system will ensure safer and faster charging times. You may need to acquire a permit before you can do so.
For any Level 2 charger, you'll need to upgrade a regular outlet to a 240 volt one. Otherwise, you risk overloading the breaker box. When you need electrical service, always work with a licenced electrician.
We Install Home Charging Stations!
At Powertec Electric, we're certified charging station installers. We sell EV chargers installed in an attached garage for an average cost of $1999. They range from $700-$1000 to purchase, with an additional fee for labour and installation.
Depending on which model of electric vehicle you purchase, you might have some flexibility with the charging station you choose. A few popular models of EV chargers that we install include:
ChargePoint: These EV chargers are Energy Star certified, making them highly efficient and eco-friendly. Monitor your battery levels via the app. On your smartphone, you can check the power status of your car at any time.
Tesla: Tesla vehicles are designed to be used with their brand of charging equipment; if you want to use a different type of charger, you'll need an adaptor. With a Tesla charger, your car battery will be charged faster than with another charger.
Porsche: These chargers are optimal for all electric Porsche vehicles. Using the Porsche Connect app, you can control and monitor the charging process.
Our licenced electricians can install an EV charging station in your home. If you don't already have a 240 volt outlet for your Level 2 car charger, we'll set one up for you.
The true cost of a home EV charger will vary based on your specific needs. Looking for a quote? At Powertec Electric, we can install the optimal setup for your electric vehicle. To learn more, contact us today.