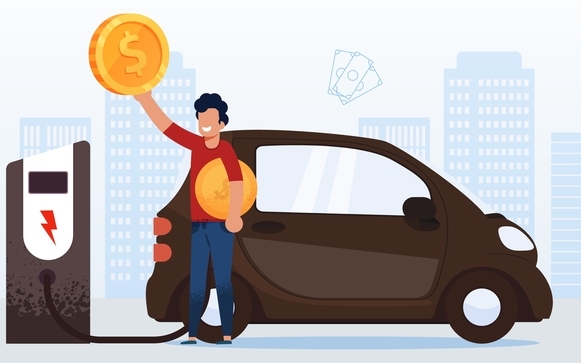 It's no secret: gas-powered cars contribute to climate change. If you're looking to reduce your greenhouse gas emissions, switching to an electric car is more affordable than ever.
Did you know that you can save a substantial amount of money when you buy an electric car in Canada? That's right: there are several federal and provincial programs that reduce the total cost of electric cars.
By changing the way we drive, we can all do our part to stop climate change. Here's how you can get an electric car rebate in Canada:
The Federal Rebate
All Canadians can use the iZEV rebate (which stands for Incentives for Zero Emission Vehicles) to receive up to $5,000 toward the purchase of an electric vehicle. Here's how it works.
Basically, any car that can run without producing tailpipe emissions will qualify. Even if the vehicle isn't fully electric (like a hybrid electric vehicle), it can still qualify, as long as it can run without using an internal combustion engine.
Zero emission vehicles include the following:
Hydrogen fuel cell vehicles
Plug-in hybrid electric vehicles
Battery-electric vehicles
Depending on the type of electric vehicle you purchase, you'll be eligible for a different incentive amount. A long-range EV is eligible for $5,000 (battery capacity is at least 15 kWh), while a short range EV is eligible for $2,500 (battery capacity is less than 15 kWh).
To ensure that your purchase qualifies for this incentive program, it needs to meet a few criteria: 
First, you must purchase or lease a new vehicle. Used vehicles are not eligible. One exception to this rule is if you purchase a demonstrator vehicle; you can still receive an electric car rebate, as long as the vehicle has an odometer reading of less than 10,000 km. 
If you decide to lease the vehicle, you must lease it for at least 12 months. The length of the lease will determine how much of the rebate you'll receive. Lease a vehicle for 48 months, and you'll receive the full incentive; but lease it for just 24 months, and you'll receive only half of the incentive. 
The purchase price is another important factor. If you're buying a vehicle with six or less seats, the MSRP (Manufacturer's Suggested Retail Price) must be less than $45,000. However, if you want a higher-price verison of that specific vehicle, the MSRP can be as much as $55,000.
For vehicles with seven or more seats, the MSRP must be less than $55,000. Or, you can purchase a higher-priced version of that car for up to $60,000.
Which Electric Vehicles are Eligible?
To see a complete list of eligible vehicles for the iZEV program, click here. This list is updated regularly, so be sure to check back often.
How Do I Apply for the iZEV Program?
Getting your federal rebate is easy; there's no paperwork involved on your end, and the rebate is applied directly at the point of sale. The dealership applies the incentive to the bill of sale, after taxes and fees are calculated. Then, it's up to the dealer to submit paperwork that reimburses them for the incentive. 
Electric Vehicle Rebates in Each Province & Territory
Depending on where you live, there may be additional rebates that you can apply for. Most of these provincial rebates can be combined with the iZEV program, saving you even more money. Here's an overview of the provincial rebate programs across Canada:
Manitoba
At this time, there are no provincial rebates in Manitoba. However, all Manitoba residents can apply for the iZEV program.
British Columbia
The government of British Columbia is actively encouraging residents to switch to electric vehicles with these excellent rebates. In BC, you may qualify for the following programs:
SCRAP-IT: Get rid of your gas-powered vehicle, and you'll receive a rebate that you can use toward the purchase of an electric vehicle. You can receive up to $6,000.
Home charger rebate: Homeowners in British Columbia can receive a maximum of $350 to cover the cost of installing and purchasing Level 2 charging equipment. 
CleanBC Go Electric Vehicle Rebate Program: Get up to $3,000 when you buy a new zero emission vehicle in BC.
Prince Edward Island
Looking for an incentive program in PEI? The government of Prince Edward Island has an electric vehicle incentive that's similar to the federal one. Residents can receive up to $5,000 on a new/used EV, or $2,500 for a hybrid.
New Brunswick
With the Plug-In NB program, New Brunswick residents can receive rebates for electric vehicles, plug-in hybrid electric vehicles, and home charging stations. It applies to the same models of vehicles as the federal program. 
Saskatchewan 
Currently, there is no specific rebate in Saskatchewan for EVs. Make sure to ask your dealership about the federal rebate. 
Quebec
This province has one of the most generous rebate programs in the country. New EV purchases qualify for up to $8,000 (as long as the cost is under $60,000), and used EV purchases up to $4,000.
Yukon
Save money when you drive an electric vehicle in this territory with the Yukon government rebate program, which gives up to $5,000 off a new EV.
Ontario
Plug'n Drive offers two incentives to those in Ontario: a used EV incentive, which grants $1,000 for purchasing a used electric vehicle, and a scrappage incentive, which provides $1,000 when you recycle a gas vehicle.
Nova Scotia
Check out the Electrify Nova Scotia Rebate Program. You could qualify for a $3,000 rebate on a new electric vehicle (and $2,000 for a used one). 
Newfoundland & Labrador 
When you buy a new EV in this province, you can receive $2,500 toward your purchase. 
Now that you've got a brand new electric vehicle, you need somewhere to charge the battery. Why not add a charging station to your garage? Home EV chargers in Winnipeg ensure that your car is always ready to go. 
At Powertec Electric, we can help with that. We're a ChargePoint partner; we also install Tesla and Porsche chargers. To receive a free quote for your installation, contact us today.